Special Events
We hope you will take advantage of some of these special events going on at AMP this year! Click on the event below to automatically scroll down for details. More information will be added as events are programmed. Note - some events, including the AMP 2017 Social Event and Reference Materials Forum, MPOC, Science Educators Workshop, & International Showcase, require registration in advance.
AMP Reference Materials Forum (Separate Registration Required)
Tuesday, November 14, 8:00am - 5:30pm
Join your colleagues in Salt Lake City to discuss genetic testing reference materials availability and needs (for test validation, quality control, and proficiency testing). Call for presentations for this special event ends on July 31, 2017. Visit the AMP Reference Materials Forum page for more details and registration information.
Corporate Workshop Day
Wednesday, November 15, 8:00am - 5:00pm
AMP Corporate Workshop Day presents an opportunity for all AMP meeting attendees and the public at-large to learn from industry representatives about the latest scientific advances and equipment. This event is free and open to all. Take advantage of over seventy workshops hosted 8:00am - 5:00pm. Please note that Corporate Workshops are commercial activities. View the full disclaimer.
Special Event: Diagnostic Strategies in Advanced NSCLC: Guiding Treatment Decisions Through Pathology

NEW: A recorded version of this event can be accessed for free on the Medscape website. Click here.
(Separate Registration Required)
Developed through a strategic collaboration between AMP and Medscape Education Oncology
Wednesday, November 15
Reception: 5:30 PM – 6:15 PM - offering hors d'oeuvres and beverages
Symposium: 6:15 PM – 7:30 PM

Join your colleagues at a unique and free educational event highlighting clinical trial data and practice guidelines supporting the use of ALK, EGFR, ROS1, and PD-L1 status in the treatment selection for patients with advanced NSCLC.
Note: Pre-Registration recommended. You can register for this FREE event when you register for the Annual Meeting. If you have already registered for the meeting and would like to attend this event, please login to the Attendee Service Center and edit your registration. Individuals who wish to attend the event but are not attending AMP 2017 can register here.
Molecular Pathology Outreach Course (Separate Registration Required)
AMPlicons: A Practical Molecular Toolkit and Case Studies
Wednesday, November 15, 8:30am - 3:45pm
This course is designed for pathologists, residents, laboratory directors and technologists who have some prior exposure to molecular diagnostic testing. The course features introductory information about the state of the science as well as a series of case studies illustrating some of the most current principles and practices in the field of Molecular Pathology. Attendees from all career levels will benefit from this staple offering.
Science Educator Workshop (Separate Registration Required)
Teaching Precision Medicine, Genomics, and Molecular Diagnostics in Your Classroom
Wednesday, November 15, 8:30am - 3:45pm
Launched in 2015, this popular event a day prior to the AMP Annual Meeting is a complimentary workshop for local area high school and college level science faculty. This year, the Keynote Speaker will be Dr. Louisa Stark, Professor of Human Genetics and the Director of the Genetic Science Learning Center at the University of Utah.
International Showcase (Separate Registration Required)
Thursday, November 16, 7:00pm - 8:30pm
In the global community of molecular medicine, there is a need to ensure consistency and standardization among all clinical diagnostic laboratories for providing the best patient care. During this year's event, International Affairs Committee members will share their experiences in the analysis of NGS data. After the presentations, open forum discussions will be facilitated to address the challenges and opportunities for moving towards one molecular community. Dessert and coffee will be served.
AMP's "booth" in the Exhibit Hall centrally located between the poster boards! Come and visit the area to...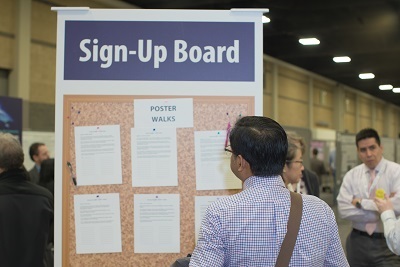 - Participate in "Career Networking Mixers" and "AMP Committee Meet & Greets."
- Learn about opportunities to Get involved with AMP.
- Visit our Job Board to see or post new opportunities
- Test Directory Demonstrations
- Tweetup during the Welcome Reception
… and more!
The AMP Innovation Spotlight Stage is a unique opportunity for exhibiting companies to promote leading edge products or services in the Exhibit Hall at the AMP 2017 Annual Meeting. The Innovation Spotlight Stage area is located in the back left corner of the Exhibit Hall. Innovation Spotlight presentations are open to all Meeting Registrants and seating will be on a first come, first served basis.
Networking Lunches
Thursday, November 16 and Friday, November 17, 11:45am - 1:00pm
Saturday, November 18, 12:15pm - 1:30pm
Your registration fee include lunch each day during the meeting. The general lunch in the exhibit hall is a great option as are the variety of Networking Lunches. Most are organized by "interests," such as, technologists, trainees, early career, International attendees, and first timers.

Welcome Reception Supported by Roche
Thursday, November 16, 5:45pm - 7:00pm
Please join us for the Welcome Reception and help to kick-off another successful Annual Meeting while networking with your friends and colleagues in the Exhibit Hall. This event is open to all registered Meeting Attendees. Be sure to indicate if you plan to attend when you register for the Annual Meeting.
AMP Trainee Networking Hour Sponsored by the AMP Jeffrey A. Kant Leadership Award
Thursday, November 16, 7:00pm - 8:00pm
Location: Gracie's Bar, 326 S West Temple, Salt Lake City, UT 84101
Join us in the first ever AMP Trainee Networking Hour! This is your chance to connect with other AMP trainees over great food and drinks at a local Salt Lake City bar. All registered trainees are welcome and will receive a ticket that they may use at Gracie's Bar, in exchange for a free drink! Your drink ticket will be included on your badge sheet when you check-in for the Annual Meeting.
Business Meeting and Awards Session
Friday, November 17, 5:15pm - 6:30pm
AMP invites all Meeting Attendees to attend the AMP Business Meeting and Awards Session. Come hear how AMP is working hard to help you advance patient care. A number of awards, including the Young Investigator, Technologist and the Jeffrey A. Kant Leadership Awards will be presented at this session.
AMP 2017 Social Event (Separate Registration Required)
Friday, November 17, 7:00pm - 10:30pm
The AMP Social Event is intended to facilitate networking opportunities between trainees, new, and long-standing AMP attendees. There will be mingling, dancing, amateur acts and great food! Attendees who purchased tickets when registering for the meeting will receive their ticket when they check-in at the registration desk for their name badge. If any tickets are still available for sale, they may be purchased at the Registration Desk.