Special Events
We hope you will take advantage of some of these special events going on at AMP this year! Click on the event below to automatically scroll down for details. More information will be added as events are programmed. Note - some events, including the AMP 2017 Social Event and Reference Materials Forum, MPOC, Science Educators Workshop, & International Showcase, require registration in advance.
Tuesday, November 14, 8:30am - 5:00pm
Join your colleagues in Salt Lake City to discuss genetic testing reference materials availability and needs (for test validation, quality control, and proficiency testing). Call for presentations for this special event ends on July 31, 2017. Visit the AMP Reference Materials Forum page for more details and registration information.
Wednesday, November 15
AMP Corporate Workshop Day presents an opportunity for all AMP meeting attendees and the public at-large to learn from industry representatives about the latest scientific advances and equipment. This event is free and open to al. Take advantage of over seventy workshops hosted 8:00am - 5:00pm. Please not that Corporate Workshops are commercial activities. View the full disclaimer.
Molecular Pathology Outreach Course
Wednesday, November 15
AMP Central
AMP's "booth" in the Exhibit Hall centrally located between the poster boards! Come and visit the area to...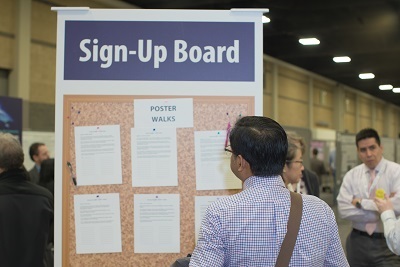 - View opportunities on a Job Board.
- Participate in "Career Consults" and other networking opportunities.
- Attend Poster Walks
- Learn about opportunities to Get involved with AMP.
The Exhibitor Theater is a unique opportunity for exhibiting companies to promote a new product or service in the Exhibit Hall at the AMP 2017 Annual Meeting. Complete schedule will be available in the Fall.
Networking Lunches
Thursday, November 16 and Friday, November 17, 11:45am - 1:00pm
Saturday, November 18, 12:15pm - 1:30pm
Your registration fee include lunch each day during the meeting. The general lunch in the exhibit hall is a great option as are the variety of Networking Lunches. Most are organized by "interests," such as, technologists, trainees, early career, International attendees, and first timers. Complete schedule will be available in the Fall.

Welcome Reception
Thursday, November 16, 5:45pm - 7:00pm
Please join us for the Welcome Reception and help to kick-off another successful Annual Meeting while networking with your friends and colleagues in the Exhibit Hall. This event is open to all registered Meeting Attendees. Be sure to indicate if you plan to attend when you register for the Annual Meeting.
Business Meeting and Awards Session
Friday, November 17, 5:15pm - 6:30pm
AMP invites all Meeting Attendees to attend the AMP Business Meeting and Awards Session. Come hear how AMP is working hard to help you advance patient care. A number of awards, including the Young Investigator, Technologist and the Jeffrey A. Kant Leadership Awards will be presented at this session.
AMP 2017 Social Event (Separate registration required)
Friday, November 17, 7:00pm - 10:30pm
The AMP Social Event is intended to facilitate networking opportunities between trainees, new, and long-standing AMP attendees. There will be mingling, dancing, amateur acts and great food! Attendees who purchased tickets when registering for the meeting will receive their ticket when they check-in at the registration desk for their name badge. If any tickets are still available for sale, they may be purchased at the Registration Desk.