Poster Information

EMBARGO
The research presented as posters at the AMP Annual Meeting from the abstracts published in the November issue of JMD is embargoed until the first day of poster presentations at the Annual Meeting.
POSTER FORMAT
Poster Size Requirement: All posters must be no larger 4 ft (122 cm) high x 6 ft (1.8 meters) wide. AMP reserves the right to remove posters that exceed the size requirement.
Required Elements of the poster are as follows:
Introduction / Background: a brief discussion of the background or rationale of the study and/or the question addressed
Materials and Methods: the experimental approach, materials, and methods used in the study
Results: the data and results obtained in the study
Conclusions: the conclusions and/or implications of the results
References and Acknowledgements
Including the Abstract is optional unless the scientific content has been altered since its submission. If substantive changes to the data and/or conclusions have been made since the abstract was submitted, the following must accompany the poster presentation:
a clear notice in the poster content stating that the abstract has been revised since submission, and
the revised abstract must either be printed on the poster itself or posted as a separate document on the poster board.
POSTER PRESENTATION SCHEDULE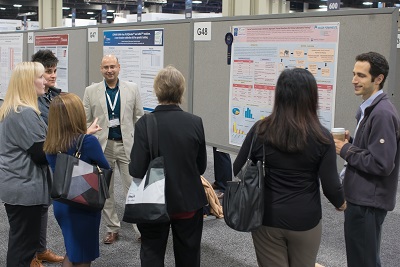 Posters must be attended by the Presenting Author during their assigned time period(s). Please note that award applicants are required to attend their posters at two time periods, one for the committee judging posters and the other for meeting attendees. Authors will be notified of their assigned time(s) in the abstract acceptance notice, which will be emailed to the Corresponding Author no later than mid-July.
If you are an applicant for either the Young Investigator Award or Technologist Award, you must attend your poster on Thursday, Nov. 16. All award applicants should have an even-numbered poster, and thus, must also present their poster during the time indicated below.
If the Poster Number is an EVEN number, the Presenting Author will attend the poster during the Poster Session on Friday, Nov. 17.
If the Poster Number is an ODD number, the Presenting Author will attend the poster during the Poster Session on Saturday, Nov. 18.
POSTER PRINTING
Coming soon!
VISA INFORMATION FOR INTERNATIONAL VISITORS
Coming soon!