Science Educator Workshop
Teaching Precision Medicine, Genomics, and Molecular Diagnostics in Your Classroom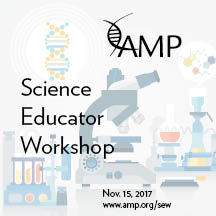 Keynote Speaker: Dr. Louisa Stark
Professor of Human Genetics and Director of the Genetic Science Learning Center, University of Utah
Launched in 2015, this popular event a day prior to the AMP Annual Meeting is a complimentary workshop for local area high school and college level science faculty. The goals of this workshop are to:
Update teachers/instructors on relevant, timely topics in the clinical molecular diagnostics laboratory.
Provide an awareness of the molecular pathology profession through sharing academic and personal life experiences.
Explore innovative curricula and educational best practices.
Build local educational communities around content and pedagogy experts in molecular concepts and methods.

Eligible Participants: High School/College Science Educators and their high-level science students (up to 3 per teacher)
Date: Wednesday, November 15, 2017
Registration: FREE, but seats are limited. Attendees are responsible for transportation costs, including parking at or near the hotel or convention center.
Program: Click here to download the program
Download the Flyer for This Event (Share this event with your colleagues by printing and posting this flyer at your institution!)

Come back and tour the Exhibit Hall, Saturday, November 18!
Your complimentary workshop registration also includes a tour of the AMP 2017 Annual Meeting Exhibit Hall for you and your students. Return to the Salt Palace Convention Center on the morning of Saturday, November 18 for a guided tour of the poster presentations with information about the science behind the research. You will have the opportunity to visit with exhibitors and hear about their products and services they provide to the molecular diagnostics community. AMP exhibitors are working in your local community hospitals, academic medical centers, and across the world. Details will be provided upon your registration.
Supported in part by